Summer is an ideal time to add a healthy dose of fresh herbs to salads, smoothies, and main entrees for an instant burst of flavor. But summer isn't the only time you can take advantage of fresh herbs in your cooking — you can use fresh herbs all year long. If your pantry is filled with bottles of dried herbs, you might want to try fresh herbs instead. Don't be intimidated! We're sharing information on using fresh herbs in your cooking, storing and freezing fresh herbs, and substituting dried herbs for fresh (and vice versa!).
Benefits of Cooking with Fresh Herbs
Not only are fresh herbs a flavorful addition to any meal, but they are also chock-full of health benefits. These include:
Lowering blood pressure and heart disease. Using fresh herbs as an alternative to salt for flavoring your favorite foods can help lower blood pressure and keep heart disease away.
Improving mineral balance. Parsley is just one example of a mineral-rich herb, offering high levels of fiber, vitamin C, folate, and calcium. Other herbs are superior sources of vitamins and minerals, as well.
Increasing immune support. Fresh herbs like rosemary, ginger, thyme, and sage are all known for helping the body fight off infections.
How to Use Fresh Herbs in Cooking
If you haven't used fresh herbs in your cooking previously, you might be looking for information on what kind of flavor they add, what foods they pair well with, and what part of the herb you should use. Here is a snapshot of how you can cook with some of the more popular fresh herbs.
Basil
Flavors: Subtle pepper taste evolves to sweetness.
Preparation: Remove the leaves and discard the stems. To prevent browning and maximize flavor, add at the end of cooking.
Tastes best in: Summer tomatoes and mozzarella cheese, tomato sauce, curry, and homemade pesto.
Cilantro
Flavors: It's not for everyone. Some experience a bright, zesty lemon flavor, while others complain of a soapy taste.
Preparation: Chop the leaves and stems or keep leaves whole, can be used raw or cooked.
Tastes best in: Enchilada sauce, salsa, guacamole, and salads.
Rosemary
Flavors: Lemony-pine, peppery, woodsy
Preparation: Strip the leaves from the stem, as the stems can be pungent.
Tastes best in: Robust and filling meals, lamb chops, pork tenderloin, and roasted potatoes.
Thyme
Flavors: Lemony-minty taste that can be overpowering in some dishes.
Preparation: Strip the leaves from the stem and chop before use.
Tastes best in: Roast chicken, breads, potatoes, and rice.
Mint
Flavors: Sweet, cool flavor
Preparation: Tear or chop leaves or keep them whole.
Tastes best in: Commonly used in desserts and cocktails, and can also be used with fresh fruit, curry, and marinades.
Oregano
Flavors: Peppery taste
Preparation: Chop leaves or keep them whole.
Tastes best in: Italian dishes including tomato sauces, pizza, and salad dressing.
Dill
Flavors: Slight grassy flavor
Preparation: Strip leaves from stems.
Tastes best in: Fish and shellfish, omelets, dips, and potato salad.
This article from Eating Well provides healthy recipes that highlight all these fresh herbs.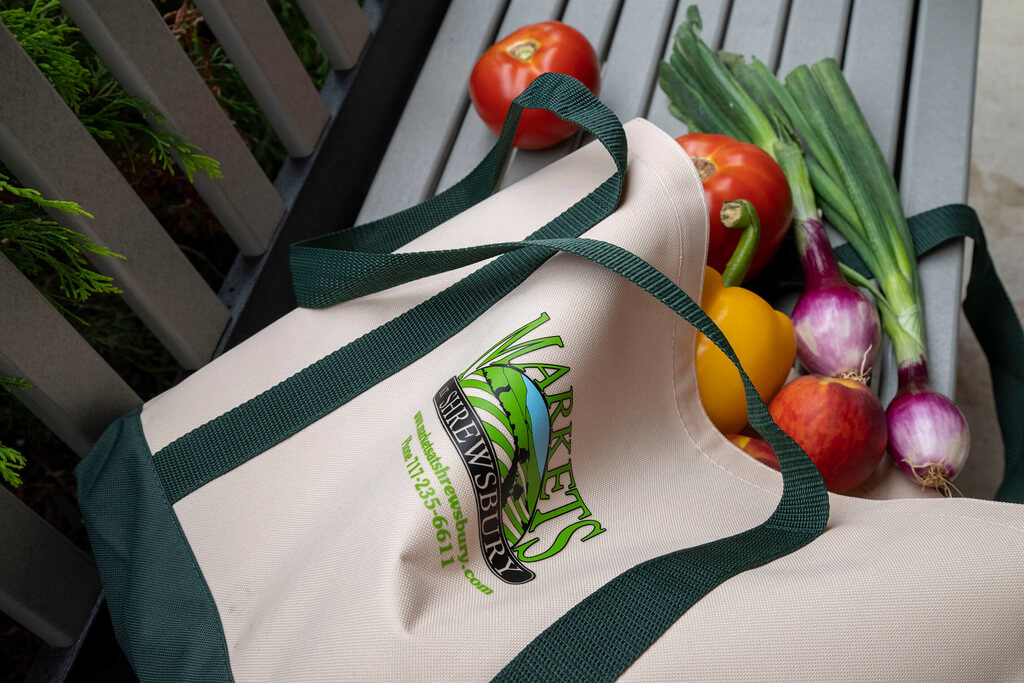 Explore Our Other Blogs
Entertaining & Holidays– Learn how to host perfect dinners and learn about Amish holiday traditions.
In The Kitchen – Explore how to make the most out of your Market's produce and food with recipes, tips & tricks, helpful guides.
Shopping At The Markets– Find helpful advice for shopping at a farmers market on anything from FAQs on shopping in bulk or secrets to choosing the best produce.
Storing Fresh Herbs
Whether you buy your fresh herbs at your local farmers market or grow your own, you want to keep them at the peak of freshness. Follow these steps to store your fresh herbs:
Start by removing any fasteners. Then wash and dry thoroughly and snip the ends.
From there you have two options for storage:
Place your herbs in a glass or jar filled with cold water. Cover jar with a plastic bag and secure it with a rubber band. Depending on your herbs, you can store them on your countertop or in the fridge.
Wrap the stems in a damp paper towel and place the plants in a Ziplock bag with a little air. Store them in the warmest part of your fridge, which is usually the door or top shelves.
Freezing Fresh Herbs
As summer comes to an end, you can preserve fresh herbs to use for the remainder of the year. Here are three methods of freezing fresh herbs:
Freeze on the stem — Hardy herbs like rosemary, dill, thyme, or sage can be frozen right on the stem and stored in an airtight container. Spread them out on a baking sheet or plate and place in the freezer. Once they are frozen, move them into an airtight container.
Freeze in water — This method is best for tender herbs like mint, parsley, and cilantro. Remove the leaves from stems, and either chop them or use whole leaves. Pack into an ice cube tray, add enough water to cover them, and place the tray in the freezer. Once frozen, they can be stored in a Ziplock bag or other airtight container. When you're ready to use them, you can toss an "herb cube" right into your pot.
Freeze in oil — A good method for preserving basil, oregano, and thyme is freezing them in olive oil. To start, remove the leaves from the stems. Combine 1 cup of herbs with 1/2 cup of olive oil in a food processor or blender. Once blended, pour into ice cube trays and place in the freezer. Once frozen they can be stored in a Ziplock bag or other airtight container. Again, you can add individual cubes to your recipes as needed.
Substituting Dried Herbs for Fresh
While herbs can be used in their extracted and dried forms, the most significant health benefits are often found in the raw plant. As with many natural foods, some of the more beneficial and nutritional components are lost during processing.
Dried herbs tend to have a strong flavor, while fresh herbs are usually quite mild. So you will need 3-4 times more fresh herbs for the same flavor. Use the following guidelines when making substitutions:
1 tablespoon of fresh herbs = 1 teaspoon of dried herbs
Additionally, you should take into consideration your cooking method and the total cooking time of your dish. Fresh herbs are best when added to dishes with shorter cooking times, while dried herbs release flavors slowly and are better for longer cooking times.
Shop the selection of fresh herbs at Glick's Produce every Thursday, Friday, and Saturday.