Love harvesting and using fresh herbs in your cooking, but have more than you can use on hand? Maybe you're just looking to save them for a cold winter's day when you can't pick them straight from your garden. Thankfully, with these simple tips and tricks on how to preserve fresh herbs, you can easily prepare your fresh herbs for storage and enjoy them at any time you wish.
Cutting & Washing Your Herbs
The key to storing fresh herbs and stocking them in your pantry starts in the garden with how you gather and care for them after harvesting. Here are some tips for picking them out of your garden:
Gather any flowering herbs before they're in bloom. Once in bloom, the energy in the plant is put towards the flower and the leaves will have less flavor.

Always cut your herbs with a clean pair of garden scissors to prevent spreading disease among plants.

If you're

pinching the herbs by hand

, make sure to wash your hands before starting.

Try to harvest either during the morning once dew dries or in the late afternoon.
Once you've collected what you want from your garden, it's time to wash what you've gathered. Just like fresh produce, the washing process is important as it ensures that bacteria, dirt, and residue are removed and the herbs are safe for eating.
How to Wash Your Herbs Properly
To clean your just-picked herbs, simply:
Rinse them under cool running water, turning until clean.

Turn the water off and drip-dry them for a few seconds over your sink.

Remove any leaves that look damaged or unhealthy.

Place on your countertop on a clean paper towel.

Dry herbs with a paper towel or in a salad spinner.

Prepare them for the freezer, or pantry.
At this point, you may be asking is it better to dry or freeze fresh herbs? Truthfully, the best way to figure out how to preserve fresh herbs is to consider which process below best suits your kitchen and cooking needs. Below we'll dive into different methods you can choose from.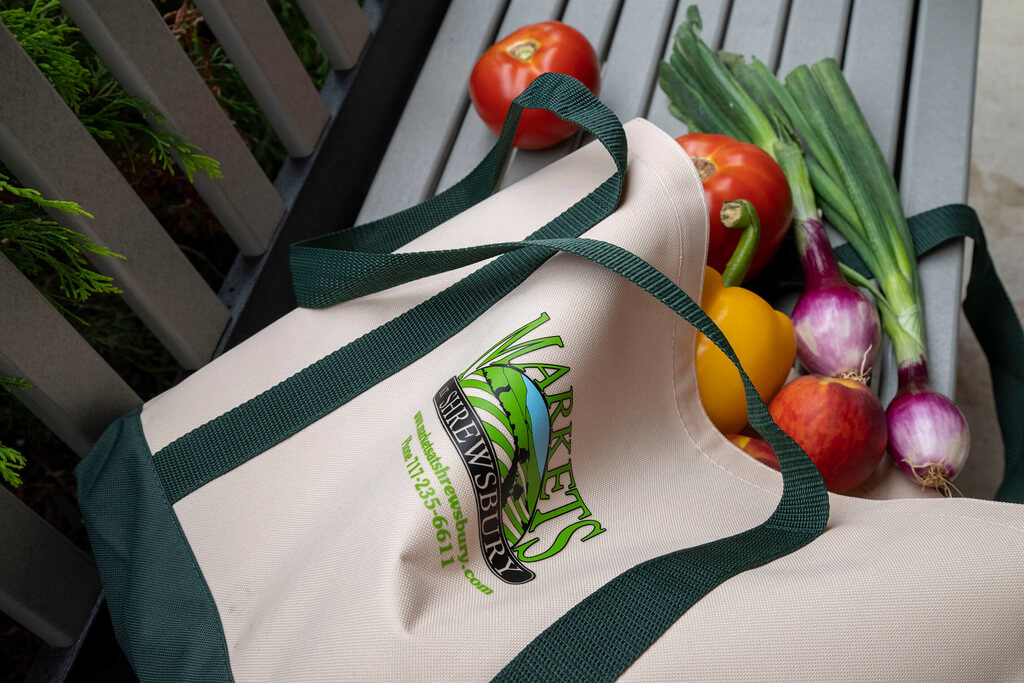 Explore Our Other Blogs
Entertaining & Holidays– Learn how to host perfect dinners and learn about Amish holiday traditions.
In The Kitchen – Explore how to make the most out of your Market's produce and food with recipes, tips & tricks, helpful guides.
Shopping At The Markets– Find helpful advice for shopping at a farmers market on anything from FAQs on shopping in bulk or secrets to choosing the best produce.
How to Preserve Fresh Herbs in the Freezer
To start, it's important to note that this method will work best for select types of herbs. We've found it's best to freeze any of the following:
Basil

Oregano

Mint

Chives

Lemon balm

Tarragon
When you're deciding how to preserve fresh herbs in the freezer, you can choose to freeze them individually, in water, or in oil. Below we'll cover the process for each of these. Note that if you choose any of the following options, you can store and use your herbs for up to one full year.
Freezing Herbs Individually
Before freezing, blanch your cuttings first in order to preserve that bright color. Bring a pot of water to a boil and also fill a second bowl with cold water and ice. Set up a layer of paper towels on your counter.
Next, hold your herbs by the stem and carefully plunge them into the boiling water for about 15 seconds (or 30 seconds if it's a hardier herb). Once the time is up, immediately plunge the herbs in an ice bath. Keep them there for about 1 minute, remove them, and pat them dry with a towel.
Once dried off, remove the leaves and place them in a single layer on a baking sheet. Put the sheet in your freezer for about 1 hour or until frozen solid. Then take them out, transfer them into a plastic bag, remove air, seal the bag, and place them back in the freezer.
This method works best if you're planning to use the herbs in drinks, soups, stews, and any other types of cooking.
Freezing Herbs in Water
Another option after washing and drying herbs is to chop them into pieces (like you would using them fresh) and layering those pieces in each compartment of an ice cube tray. Fill each compartment about ¾ full with water and then try to push the pieces down under the water. Then place the tray inside the freezer for 24 hours.
The next day, remove the tray and top off the compartments with water to ensure herbs are fully submerged. Once completely frozen, take the cubes out of the tray and store them in a bag labeled with the type of herb and date.
This method works well if you're planning to use herbs in soups or stews. Simply pop 1 to 2 cubes in to melt while cooking.
Freezing Herbs in Oil
Want to up your flavor game one more level? Try preserving fresh herbs in olive oil.

Similar to the process above with water, find an ice cube tray that creates smaller cubes (you don't want them to have too much olive oil). From there, fill the bottom of each compartment with chopped herb pieces and then top it off with 1 tablespoon of oil. Then place the tray in the freezer.
Once fully frozen, take the cubes out of the tray and store them in a sealed bag, labeled and dated. Then you can pull them out as needed and use them in soups, stews, or sauces to add flavor.
How to Preserve Fresh Herbs by Drying
Once you've completed the washing process, the key to preserving fresh herbs in your pantry is to dry them out completely. It's crucial that there isn't a hint of moisture on them during storage. Otherwise, your herbs may get moldy.
When it comes to actually drying out your fresh-picked herbs, you can select from a few methods. Let's take a look at the three most common ones.
Preserving Fresh Herbs Naturally
Similar to the process of drying fresh-picked flowers, all you'll need for this method is some kitchen string or rubber bands, scissors, and clothespins. To get started, group your herbs into bunches, grab several stems together at the bottom, and then wrap them tightly with string or rubber bands.
Once you've done this with all your herbs, hang them in a completely dark and dry area upside down from the stem. Keep them there for roughly 5-10 days until brittle and then transfer the herbs into an airtight jar. Refrain from crumbling the herbs until directly before using them. That allows you to release the fragrance and flavor as you're cooking.
Preserving Fresh Herbs with an Oven
If you're looking to speed up the drying process, consider using the staple of your kitchen equipment — your oven. To start, turn it on to the coolest setting (usually about 200 degrees Fahrenheit). After the herbs are washed and dried, spread them out flat in a single layer on a baking sheet.
Place the sheet in your oven for about 2-4 hours until the herbs are completely dry and brittle. Let them cool down and then remove any of the herbs' woody stems (as seen with rosemary or thyme) and store them in a tightly sealed container inside your pantry.
Preserving Fresh Herbs with a Dehydrator
You may already have a dehydrator on hand to preserve fresh vegetables and fruits that are in season. But did you know that you can also use it to save your favorite herbs?
Simply preheat your unit by setting it to 95-115 degrees Fahrenheit. In the meantime, rinse your herbs, shake any extra water off, and then place them in a single layer on your dehydrator tray. Let them dry for 1-4 hours, checking them from time to time to see when they're finished.
When you can crumble the herb or break the stem by bending it, remove them from the dehydrator, cool them, and store them in an airtight container. All dried herbs have around a shelf life of 2-3 years, so you should be able to enjoy them for many months to come.