The average American eats 55 pounds of potatoes a year according to the Cleveland Health Clinic. Surprising, right? Or maybe it's not as shocking as it sounds. Over 200 different potato types are sold in the US, implying at least 200 different uses.
With so many on the market, it can be confusing to know which type of potato to purchase. This guide will help explain the difference between common types of potatoes and how to use them when cooking to get the best tasting results.
The Potato Spectrum
You might be thinking: do we really need an entire guide? They're all potatoes, they can't taste that different. And to that, we present the potato spectrum.
Potatoes are split into 3 different classifications: starchy, waxy, and all-purpose. These classifications are given based on their texture, starch content, and moisture. Every potato type falls somewhere along this spectrum.
Starchy Potatoes
Starchy potatoes earned their name because of their high starch content. Their thick, dry skin absorbs oil and becomes crispy when baked. High in starch means low in moisture; as the outer layer becomes crispy, the flesh of the potato softens.
The crispy exterior but fluffy interior makes starchy potatoes perfect for fried potatoes, baked potatoes, or french fries. When peeled before cooking, they are also great candidates for recipes that require boiling and mashing.
Waxy Potatoes
On the other end of the spectrum are waxy potatoes, which are low in starch but high in moisture.
In terms of appearance, their skin is much thinner. Unlike starchy ones, which become soft when cooked, waxy potatoes hold their shape. This makes them good for making soups or stews, potato salads, or casseroles.
In general, they are best used for roasting, boiling, and slicing.
All-Purpose Potatoes
All-purpose potatoes are the best of both worlds. They fall between starchy and waxy on the potato spectrum because they have medium starch and moisture content.
This makes them the most versatile potatoes for cooking because they can be substituted for recipes that require starchy or waxy potato types. Therefore, they can be used for roasting, mashing, pan frying, stewing, soups — you name it.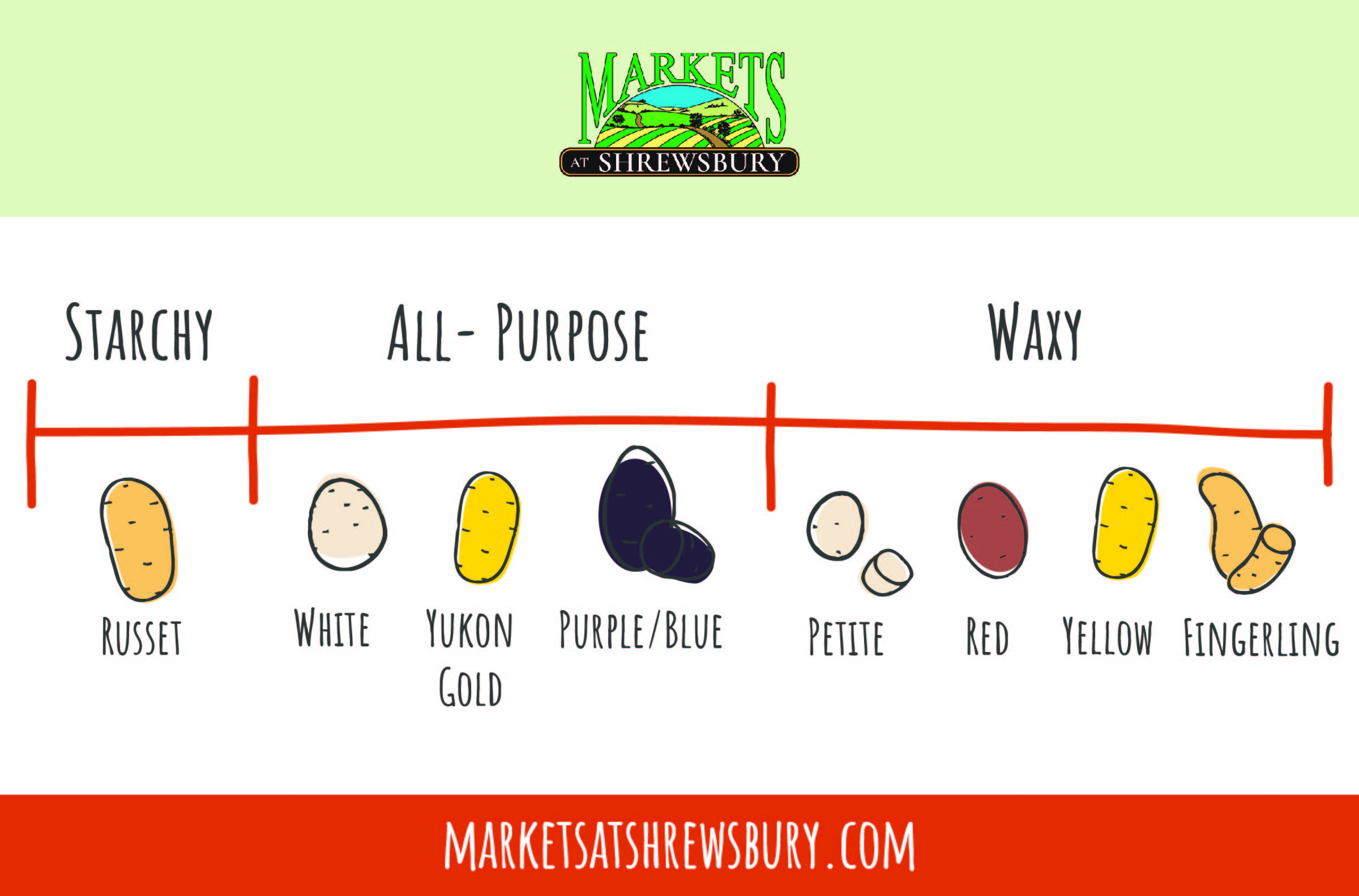 Popular
Potato Types & Uses
Now that you understand the classifications of potatoes, we can explore the most common types of potatoes and how you can use them to pair with your favorite meals!
1. Russet
Russets are the holy grail of starchy potatoes, as they are the most popular potato in their category. They are often the largest in size when compared to other potato types. Their skin is thick and dry, but their flesh is absorbent like a sponge when cooked.
Their starchy qualities make russet potatoes great for baking and frying. They work best for recipes that want to achieve an initial crunch with a velvety interior like hash browns, potato wedges, and fresh-cut french fries!
Russet potatoes can also be used in recipes that require mashing or boiling when their skin is peeled before cooking. They are often used to make silky mashed potatoes or homemade gnocchi.
2. Red
Red potatoes are waxy. They are smaller to medium in size, with smooth red skin. Since they are of the waxy potato type, they are high in moisture which keeps them firm during the cooking process.
Their thin skin requires little to no preparation; in fact, many people leave the skin of the red potato on while being cooked to add an appealing pop of color to the menu. Plus, its texture adds an earthy flavor to your recipe.
Red potatoes taste best when grilled, steamed, roasted, or stewed. They also work great in potato salads. Use red potatoes to make your own Amish potato salad!
3. White
Our first all-purpose potato type is white potatoes. Like reds, they are small to medium in size and their thin skin doesn't require peeling before cooking. When grilled, white potatoes have a rich, heavy flavor that tastes great on salads or with grilled vegetables.
Since they are considered all-purpose, they can be used for most potato recipes. Their texture after preparation is often described as velvety thick. Use them in mashed potatoes, salads, sauteed vegetables, or baked casseroles.
Also, try using all-purpose whites to make traditional PA Dutch potato filling! Simply explained, potato filling is a potato-based stuffing that is served on holidays and throughout the year in Amish tradition.
4. Yellow
Yellow potatoes fall on the waxy side of the spectrum. They can be anywhere from the size of a marble to the size of a baseball. Their smooth skin is light tan to golden in color, and their flavor is best described as buttery and rich.
This makes them taste savory in baked, roasted, and mashed potatoes. When grilled, their skin carmelizes to give them a delightful crunch that pairs well with their firm flesh. Try out these grilled yellow potato planks to see what we mean.
5. Yukon Gold
The age-long debate: are yellow potatoes the same as Yukon gold? Though they might look the same, their placement on the potato spectrum is different. Yukon potatoes are considered all-purpose, not waxy like yellow potatoes.
Their smooth, yellow skin often gets them confused with regular yellow potatoes, BUT they are not the same. Yukon golds are a hybrid of white potatoes and yellow potatoes. This means they have qualities of all-purpose and waxy potatoes.
This makes them another super versatile potato for cooking. They can be swapped for any potato type in pretty much any recipe because they taste delicious when mashed, roasted, boiled, fried, or sautéd.
Like yellow potatoes, they have a naturally buttery flavor. That's why they are often the potato of choice to make mashed potatoes. If you're looking to make velvety, subtly-sweet mashed potatoes, try this Yukon gold mashed potatoes recipe.
One of our favorite ways to use Yukon gold potatoes is in a breakfast fried potato hash. All you need is some small to medium-sized Yukon potatoes, olive oil, salt and pepper, and any additional seasonings you like.
We also like to add some fresh onion and green pepper from the farmers market to our hash, but that's totally optional. Other things you could add to your hash: bacon, sausage, eggs, mushrooms, steak (really anything that you think sounds appealing).
6. Purple/Blue
Another type of all-purpose potato is the purple potato. As it sounds, their skin is a deep purple or blue color. Their flesh can be purple, blue, pink, or white. Similar to red potatoes, they have an earthy flavor, and they're sometimes described as having a nutty flavor too.
When cooked, their color is preserved which gives a pop of color to your plate when served. They taste best grilled or steamed, and their nutty flavor makes them the perfect addition to a leafy green salad. Use them to make some healthy baked potato chips.
7. Fingerling
Like purple potatoes, fingerling potatoes can also add some color to your dish. They come in many different colors: red, orange, purple, white, yellow, and more. But these potatoes fall along the waxy end of the potato spectrum.
In terms of shape, fingerling potatoes are small but oblong resembling fingers. (Hence, the name "fingerling.") Their taste is buttery like a yellow potato but nutty and earthy like a purple potato. They taste best when pan-fried or roasted. Try using them to make garlic butter potatoes!
8. Petite
Petite – also called "new" or "baby" potatoes– are waxy. They are potatoes that have been harvested before they've reached maturity. Their texture, color, and shape resemble the characteristics of their larger potato types.
Their size makes them a go-to choice for roasting, pan-frying, and topping salads because they require no preparation. No time is wasted peeling or chopping the potatoes because they are already bite-sized!
Try using petite potatoes to make crispy smashed potatoes as a yummy side dish! They are the perfect blend of crispy and creamy.
At this point, you should be a spud master! We hope this blog helps you get the most taste from your potatoes. Download this type of potato chart below to reference before your next trip to the farmers market!