The Markets At Shrewsbury is the proud home of Bricker's French Fries, which makes some of the best fresh-cut French fries in the local area! If you want to try your hand at cooking fresh-cut French fries at home, we have all the advice you need to ditch the bags of frozen fries. From choosing the best potatoes and cutting fries to deep-frying and oven baking techniques, this is your beginner's guide to the perfect homemade French fry!
What Are the Best Potatoes for Fresh Cut French Fries?
The secret to perfectly-cooked French fries starts with using the right potatoes. You might think that all potatoes are created equal, but when it comes to choosing the best potatoes for Fresh-Cut French fries, you want high-starch potatoes. And the clear winners are Idaho or russet potatoes. These potatoes are dense and have less moisture, which is key to avoiding soggy fries. You can also use Yukon gold potatoes, which are an all-purpose potato that can be used for frying.
You should avoid waxy potatoes like red-skinned, new, or fingerling potatoes. Their high moisture and sugar content makes them unsuitable for deep frying. The resulting fries will be limp and soggy and can darken too quickly.
To learn more about the types of potatoes and their uses, read our blog.
How to Cut Potatoes for Fresh Cut Fries
Before you cut, you need to decide whether or not to peel your potatoes. That choice is entirely up to you!
Food Network shared this photo tutorial showing an easy method for cutting French fries:
Cut your potatoes lengthwise.
Place each half cut-side down and slice lengthwise into 1/4"- or 1/2"-thick slices.
Stack your slices and cut in half lengthwise for fries.
Large, oval-shaped potatoes will give you the nice, long French fries you desire.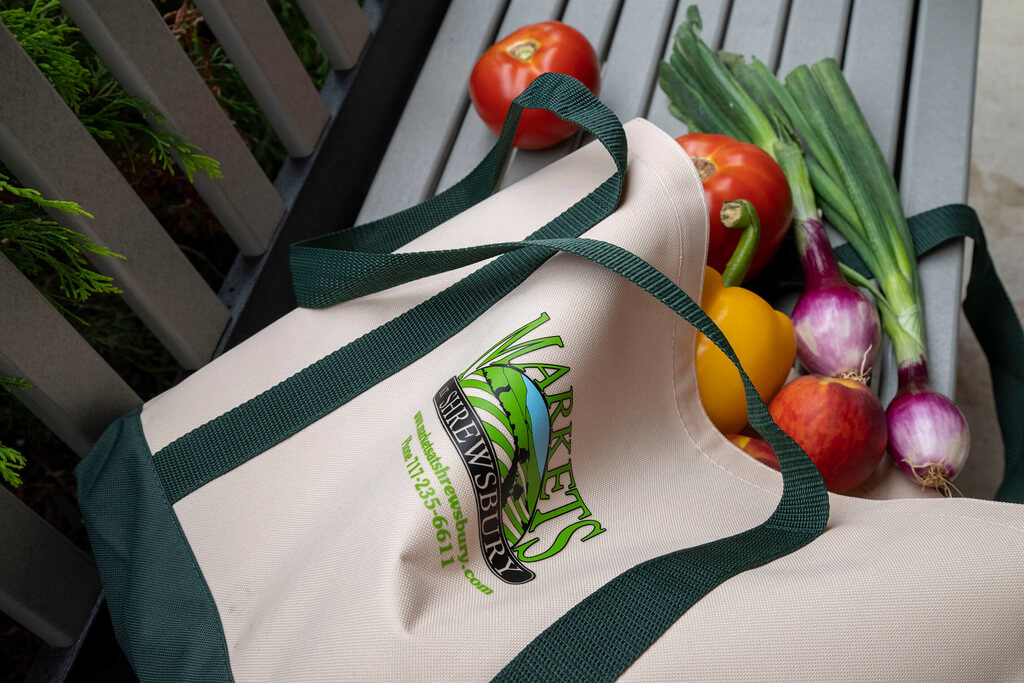 Explore Our Other Blogs
Entertaining & Holidays– Learn how to host perfect dinners and learn about Amish holiday traditions.
In The Kitchen – Explore how to make the most out of your Market's produce and food with recipes, tips & tricks, helpful guides.
Shopping At The Markets– Find helpful advice for shopping at a farmers market on anything from FAQs on shopping in bulk or secrets to choosing the best produce.
Soaking French Fries: A Crucial Step
As you cut your fries, place them into a bowl of cold water. Your potatoes may start to brown as they are exposed to oxygen, but a little bit of acid (from lemon juice) will help them maintain their color. Once they are all cut, rinse your fries under cold water to remove excess starch. When the water runs clear, you're good! After a good rinse, place them back into a bowl of ice water and refrigerate for at least 30 minutes.
The rinsing and soaking steps remove the starch and sugars that make the fries get too brown too quickly. Using ice water will stiffen the potato's cell walls which help you achieve crispier fries. Just make sure after you've rinsed your fries, you completely dry them before cooking. Drying them is critical to making sure you achieve the perfect crispy taste.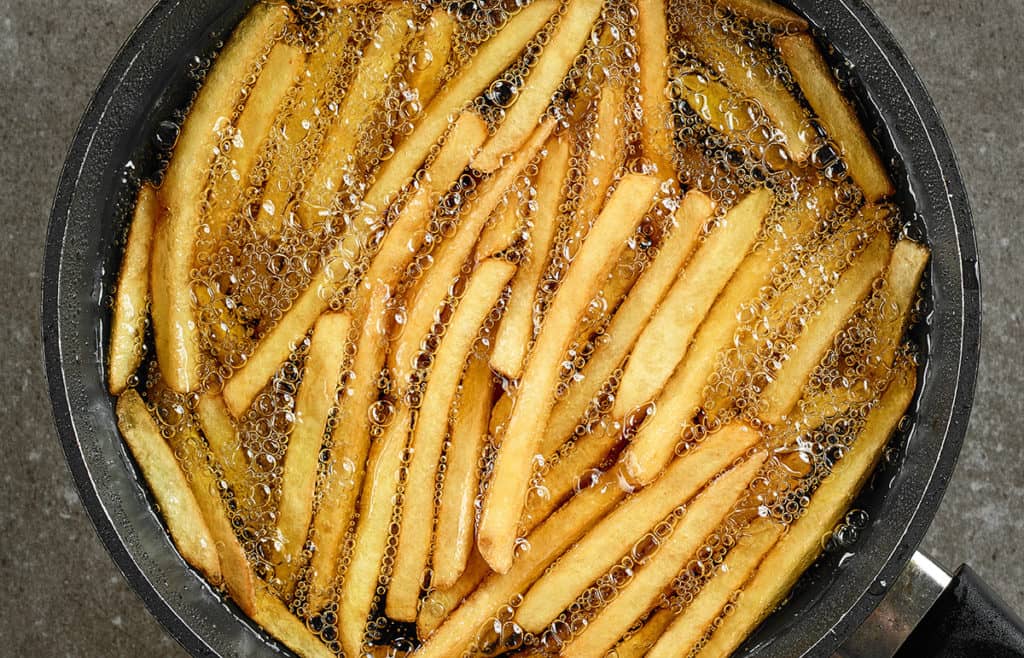 The Double Frying Technique for Fresh Cut French Fries
Although it's time-intensive, most professionals agree that double frying your fresh cut French fries is the recipe for perfection.
The first step in the double-frying method is blanching. This process involves cooking food for a short period of time. Most of the time, it involves boiling or steaming your food, but when it comes to cooking French fries, the blanching process requires oil. When blanching French fries, heat your oil to 300°F. Then, add your potatoes and cook them for about five to seven minutes. They should be halfway cooked, though still pale and limp.
When you're choosing which oil to fry your fries in, select something with a high smoke point (well above 350°F). Some popular oils include peanut oil, canola oil, vegetable oil, and safflower oil. You may be tempted to choose olive oil based on its healthier reputation, but its smoke point is much too low.
Once the blanched French fries have cooled, it's time for the second step in the double-frying process. Up your oil to 360° – 375° F and cook your fries again. This time, keep them into the oil until they are golden and crisp.
How to Make Crispy Fries in the Air Fryer
If you are interested in cooking healthier fresh cut French fries, you can choose to cook them in your air fryer versus deep-frying them. You'll follow the basic method that we described above, with a few minor changes. To make your crispy air fryer fries, follow these steps:
Follow the rising & soaking methods above, but soak for at least an hour for the same crispiness.
Remove from the water and pat your potatoes dry with paper towels.
Toss your potatoes in a bowl with some olive oil and any seasonings you desire.
Transfer to the air fryer in a single layer. (Potatoes stacked on top of each other result in soft, soggy fries.)
Cook at 375°F for 13 minutes, or until golden brown.
Since your potatoes should cook in a single layer, it's likely you'll need to make several batches. To keep your fries warm in between batches, place your crispy fries on a baking sheet and place in the oven at 200-250°F.
How to Make Crispy Fries in the Oven
Don't have an air fryer? No problem, you can still make these fresh cut French fries using your oven. To ensure that your oven-baked French fries come out crispy, follow these steps:
Follow the same rinsing and soaking methods as above.
After soaking, dry the fries between paper towels. Damp potatoes in the heat from the oven can cause steam, which results in soft fries.
Spread them out on a baking sheet lined with parchment paper. Pour oil over the fries and season them as desired.