Peach season is soon upon us. This end-of-summer produce is so sweet and juicy that it is mostly known as a component to dessert recipes. We're here to debunk that theory, as we believe peaches can be used to create mouth-watering appetizers and entrees as well!
Before we jump into the new ways you can enjoy your peaches this summer, here is a quick list of the best types of peaches to pick from your local farmer's market.
Best Peaches for Eating
Yellow or White — Yellow peaches offer that classic peach flavor, which is juicy and sweet with a bit of tangy acid. White peaches are sweet, mild and less acidic.
Freestone — Freestone peaches can be white or yellow but what makes them stand out is that their pit is easily removable. They also tend to be larger and less juicy.
Donut — Also called Saturn peaches, they have a distinct flat, round shape. They rank very high in sweetness with a soft, tender bite.
Dinner Recipes With Peaches
The tang of barbecue sauce pairs deliciously with delectable peaches. With contrasting flavors, the sweetness of the peaches enhances the smokey notes of the barbecue. Take a look at two unique takes on cooking peaches with barbecued meat.
BBQ Peach Ribs
This delicious blog shares a simple take on BBQ peach ribs.
Rib Rub Ingredients & Prep:
2 tablespoons brown sugar, packed
2 tablespoons paprika
1 tablespoon garlic powder
1/2 teaspoon salt
1 tablespoon of ground black pepper
1 slab pork baby back ribs
Preheat your oven to 200 F. Take all seasonings and mix them together thoroughly, then rub the mixture into pork ribs. Place the ribs, meat-side down in a sheet of foil. Then, fold foil into a packet around ribs and bake for 2 hours.
BBQ Sauce Ingredients & Prep:
1 teaspoon of canola oil
1 small sweet onion, chopped
2 jalapeños, seeded and chopped
2 large ripe peaches, chopped
1/3 cup balsamic vinegar
1/4 cup agave nectar or honey
2 teaspoons Dijon mustard
1 tablespoon brown sugar
1/2 teaspoon ground black pepper
In a medium-sized saucepan, heat oil over medium heat. Then, add onion and jalapeños. Stir often until tender and fragrant (4-5 minutes). Stir in peaches, balsamic vinegar, agave nectar or honey, mustard, brown sugar, and pepper. Bring this mixture to a boil, reduce to low heat, and let simmer. Stir the mixture occasionally until you see the sauce thicken (15-20 minutes).
Remove the ribs from oven, baste them with your new sauce, and place them back into the oven for another 30 minutes. Baste the ribs twice more throughout the 30 minutes. For best results, the ribs can be finished for another few minutes in a broiler before coating with your sauce.
BBQ Chicken & Peach Pizza
Courtesy of Thyme for Cocktails here's a twist to BBQ chicken pizza.
Ingredients & Prep:
1 pizza dough (store-bought is fine)
1 cup bbq sauce
2 cups chopped, cooked chicken
1 1/2 cup grated fontina cheese
1/2 small red onion, diced
1 peach, pitted and sliced thin
2 cups packed arugula
Place your oven rack in the lowest part of the oven and preheat to 500 degrees. Stretch your dough out on a pizza stone or pizza pan. Spread BBQ sauce onto the dough. Then, evenly spread your chicken and sprinkle cheese on top. Add onions and peach slices. Bake for 15-17 minutes, or according to your store-bought dough instructions. Top your pizza with arugula and immediately serve.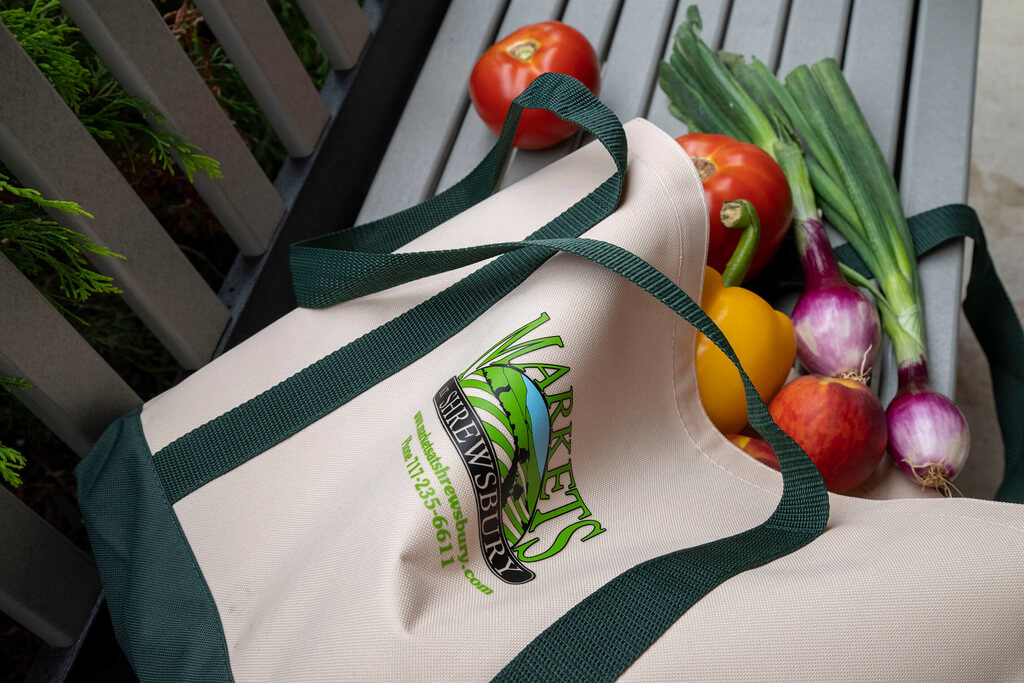 Explore Our Other Blogs
Entertaining & Holidays– Learn how to host perfect dinners and learn about Amish holiday traditions.
In The Kitchen – Explore how to make the most out of your Market's produce and food with recipes, tips & tricks, helpful guides.
Shopping At The Markets– Find helpful advice for shopping at a farmers market on anything from FAQs on shopping in bulk or secrets to choosing the best produce.
Pairing Peaches With Cheeses on Charcuterie Boards
Have you ever indulged in charcuterie boards? Perhaps you've never noticed that most cheeses on a charcuterie board are often served with sweet food pairings for the ultimate sweet and savory dish.
Most charcuterie boards have cheeses, meats, and sweeteners like jams, jellies, or fruit! This is where your peaches come in. Here are some great peaches and cheese combinations to try:
Peach and Blue Cheese
Peach and Mozzarella
Photo Courtesy of Half Baked Harvest.
Try spreading or placing your cheeses on crostini slices. A crostini is a slice of toasted ciabatta or Italian bread, coated with olive oil, salt, and pepper. After the cheese is added to the crostini, finish it with fresh peach slices for a tangy yet sweet snack! You might also add salty meats such as pancetta, prosciutto, or salami as a final topping!
In addition to pairing your peaches with cheese, make sure you choose the best wine for your meal. By finding the perfect wine pairing for your cheese and peach board, you can ensure your dinner guests enjoy a dish that's packed-full with flavor.
Experiment With Different Peach Tea Combinations
Surprisingly, standard peach teas are quite delicious when mixed with other seasonal produce! Whether you make homemade peach tea or indulge in pre-flavored tea bags, here are some excellent combinations to try:
Now that you've learned new, unique takes on eating peaches this summer, make sure to stop by Glick's Produce at The Markets at Shrewsbury to pick-up your peaches while supplies last!
Love these peach tips? Visit the Markets at Shrewsbury the first weekend of August for our annual peach days celebration! Our vendors will feature fun takes on peach treats.