What isn't there to love about farmers markets? You can buy fresh produce, talk directly to the farmers, and enjoy the sights and smells of seasonal items and other treats. However, if you haven't ever been to one, you may be wondering exactly how to shop at a farmers market. That's why we've put together these eight farmers market tips and tricks, so you can shop like a pro!
#1 Know What's in Season at the Farmers Market
Some people like to make a farmers market shopping list. However, if you're new to this style of shopping, you need to first educate yourself on what seasonal fruits and vegetables are available in your area. That way you can set your expectations of what you may or may not be able to find during your trip.
When you arrive at your market, grab a hot cup of coffee or a nice snack (like a fresh donut) and walk around the whole market. Take in the sights and do a few laps to find what's available that week. Be sure to keep an eye out for which stands have the best deals.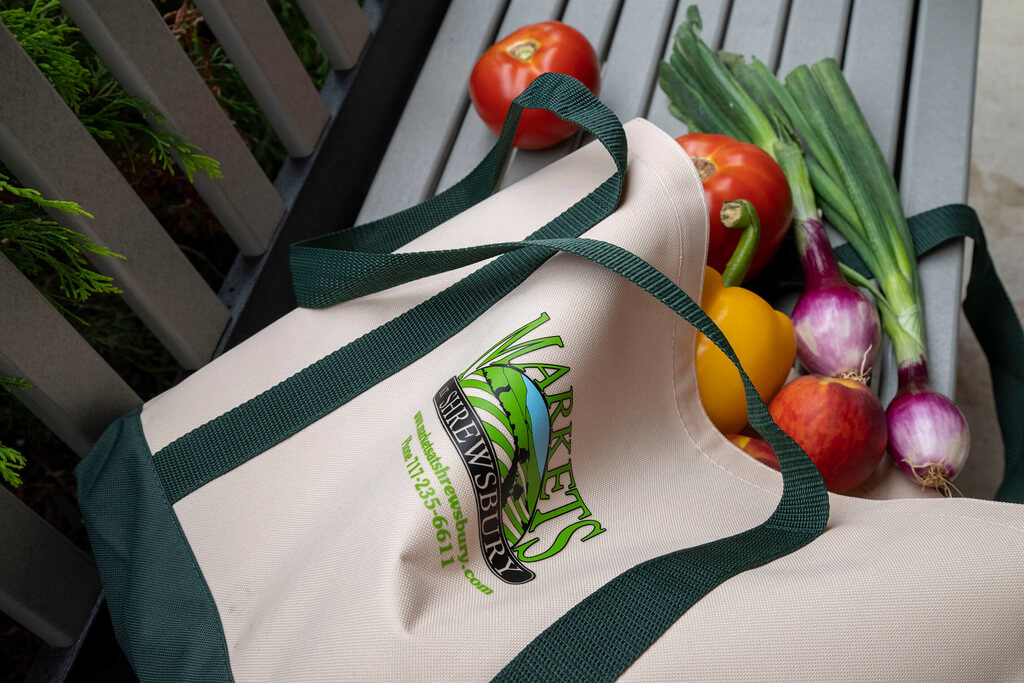 Explore Our Other Blogs
Entertaining & Holidays– Learn how to host perfect dinners and learn about Amish holiday traditions.
In The Kitchen – Explore how to make the most out of your Market's produce and food with recipes, tips & tricks, helpful guides.
Shopping At The Markets– Find helpful advice for shopping at a farmers market on anything from FAQs on shopping in bulk or secrets to choosing the best produce.
#2 Be on the Lookout for More Than Just Produce
What do you think of first when imagining a farmers market? Maybe it's a farmer selling fresh corn right from the field on a sunny summer day. But when you visit your local market, there is so much more than just fruits and vegetables.
If you're looking for premium meat — try your farmers market! Chances are there will be a few stands offering a variety of meats you can feel good about eating. Plus, while you're there you can talk to the experts if you need cooking ideas or have questions about their product.
Aside from meats, you'll also find plenty of delicious baked goods and treats. Whether it's a fresh strawberry pie or pretzels made from scratch, you're always in for a tasty surprise. Some stands may even sell a variety of jar goods (like jams, pickled vegetables, or fruits) so you can enjoy the taste of a season anytime during the year.
You can even shop for a new backyard shed, detached garage, "She-Shed", and a variety of other outdoor structures at the Penn Dutch Structures stand.
Markets can also be a great place to find beautiful gifts! Some merchants may sell handcrafted items, clothing, or unique jewelry. Always keep an eye out at your local markets if you're searching for a unique gift.
#3 Find the Best Time to Go to the Farmers Market
So what's the best time to go to the farmers market? That all depends on what you want to accomplish in your shopping.
Some will recommend going early like professional chefs do, to get the best meats, produce, and baked goods. Since you're going before the crowd arrives, you have the first pick of everything.
However, if you're looking to be a savvy price shopper, go at the end of the market day. Merchants are looking to sell their items for that day and may slash prices on what they have leftover, resulting in great deals.
#4 Bring Your Own Reusable Bags, Cooler, or Cart
Seasoned shoppers know that navigating a farmers market can become tricky if you don't come prepared. Consider carrying items with:
A reusable bag

A bag cooler (to keep dairy, meats, and produce fresh)
Often the bags at farmers markets are very thin. This can create a challenge if you buy a lot of items. Plus, if you accumulate a lot of disposable bags, they can become burdensome to carry around.
With a large reusable bag, you can easily carry everything while you walk around. On the search for a cute reusable bag? If you don't have one check with your market, as they may sell a reusable bag with their design.
#5 Buy in Bulk to Save
Your local market can be a great place to find bulk ingredients as well, so you can stock up your pantry. Buying food in bulk is cheaper since you can buy generic items at a better price or name brands at a lower price-per-unit.
Check out our guide to buying in bulk if you're interested in learning more about how it works. You want to make sure you calculate what you're buying to see if it's actually cost-effective.
#6 Carry Cash as a Backup Plan
While some stands can accept credit cards, debit cards, or electronic payments, some may not. Depending on what the stand sells, the merchant may prefer only accepting cash.
Make sure you always come prepared with some cash just in case so you don't have to leave anything behind. Or check with your local market, as they may have an ATM on-site to withdraw cash.
#7 Practice Good
Farmers Market Etiquette
It's always a good idea to understand farmers market etiquette before you visit your market. A few common practices are to:
Avoid bringing pets (unless it's a service animal)

Avoid trying to bargain or haggle the price

Avoid getting handsy with produce (it's fresh and may be easily damaged)
It's easy to learn how to be a good customer to your farmers market merchants. Simply start off by being polite and asking questions when you're unsure and they'll be glad to help you! Over time you'll become accustomed to your local farmers market's unique etiquette.
#8 Make a Day Trip of It
Markets are great for a day trip! You can take in the smells, sights, and tastes for hours. There are lots of benefits from shopping at a farmers market. Our favorite is that you get to meet your community and enjoy supporting your local businesses.
Plus, visiting a market can be a great family-friendly activity. Bring your children along to teach them about food fresh from the farm. You can show them the fresh fruits and veggies or baked treats by introducing them to new foods they haven't seen before. Or you can end the day with a treat everyone already loves, like fresh-squeezed lemonade or tasty ice cream cone!

Ready to practice your shopping at a local farmers market? Visit
The Markets at Shrewsbury merchants
for an authentic Amish farmers market experience.
This blog was originally published on June 15, 2017. It was updated on June 9, 2020.