If you're looking to mix-up your typical breakfast platter with something new, then we can't help but recommend another one of Pennsylvania's Dutch classics: scrapple.
You may not have heard of it before, or been hesitant to try it when seeing it listed on the menu of PA diners, but scrapple is certainly a dish worthy of being tried at least once. Read to learn what scrapple is, its origins, and how to make scrapple at home.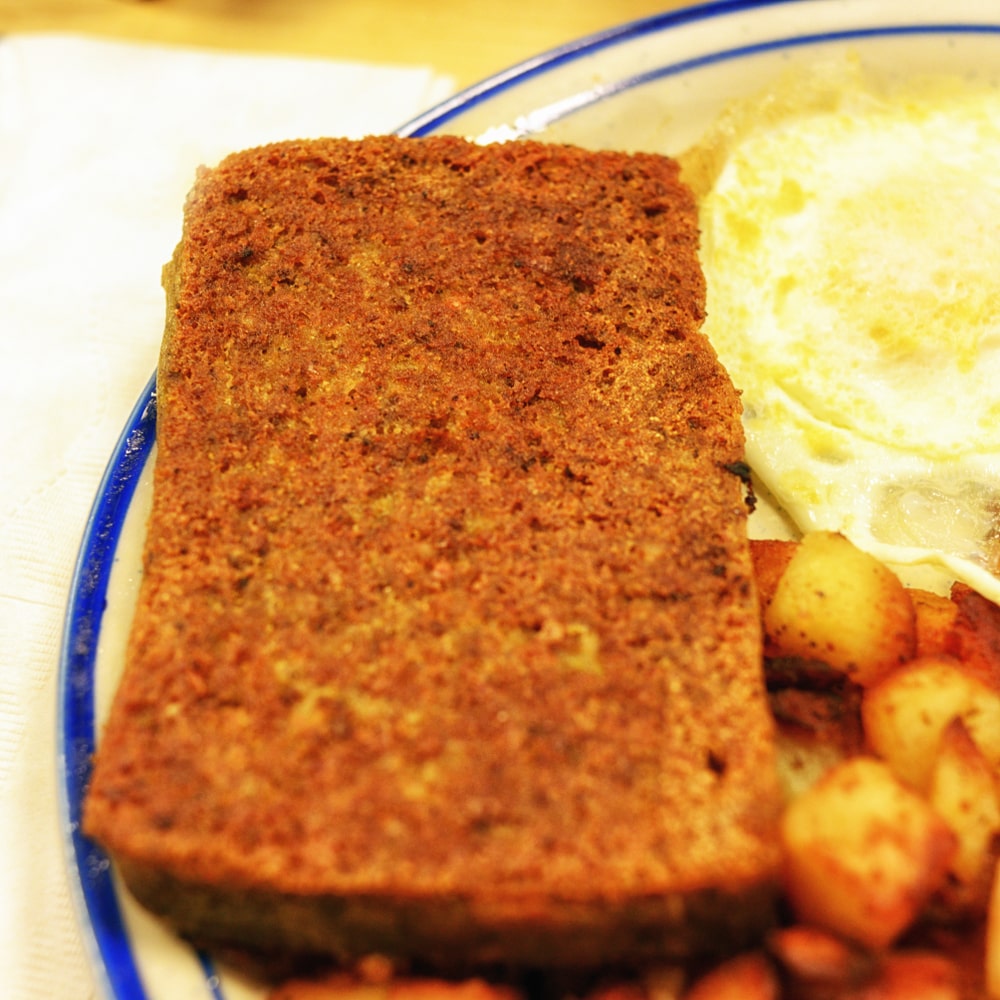 A Closer Look At Scrapple
So, what is scrapple? Is it a type of hash brown? Another name for yet another style of preparing eggs? A dish similar to french toast or sausage? Or, basing assumptions on the name alone, a side dish composed entirely of breakfast scraps?
If you're unfamiliar with the PA Dutch dish, you'll probably be surprised to learn that scrapple is a type of meat. Specifically, a thick slice of pan-fried meat made from pork served with many of your typical breakfast items.
Scrapple Ingredients
What's unique about scrapple compared to other breakfast foods is how the dish is made almost entirely of different/leftover pork/pig parts (usually the bits and pieces no one typically eats or wants).
But that begs the question, what part of the pig is scrapple? Well, it can be whatever parts you can think of that you may normally avoid when choosing your types of pork cuts from the butcher.
The parts of the pig in many recipes include trimmings, the head, shoulder, liver, kidneys, heart, and more. These internal organs, or offal, are cut down and grounded, then cornmeal (or buckwheat, which was originally used) and a variety of spices are added.
Once the meat has been prepared, the scrapple is usually formed into a loaf, sliced like bread, and pan-fried. Once it has been cooked thoroughly, your scrapple is ready to be served along with your other breakfast items.
What Does Scrapple Taste Like?
The taste of the meat can vary depending on the ingredient combinations used. Most long-time lovers of scrapple will describe the taste as being closest to a breakfast sausage, at times having a bit of a kick to it.
But most of the time, it boils down to what spices are used to season the scrapple. You can use anything from simple salt and pepper to bay leaves and peppercorns. It's up to individual taste, but you can't go wrong with experimenting.

Different
Types of Scrapple
Scrapple can (and has) come in many different varieties. Sometimes it may be a different name, and others have changes made to the basic scrapple recipe above. Here are a few different variations you may want to consider.
Southern Scrapple
Also known as livermush, southern scrapple is described as having a dense yet strong flavor to it. The main characteristic of this type is the emphasis it puts on including pork liver in the recipe. Other scrapples can do with or without it, but the Southern style always requires it.
Pennsylvania Dutch Scrapple
This version of scrapple is the "classic" recipe mentioned above, but with a bit of history attached to the name.
"Scrapple's" German term for it is "pan/pon haus," which roughly translates to "pan rabbit/hare." This was believed to be the original way the dish was prepared, but there has been little to no evidence to support the claim.
There has been a lot of debate over whether or not "pan/pon haus" should be used interchangeably with the name scrapple, or if the two should remain distinct. The main argument being that "pan/pon haus" only uses cornmeal while scrapple adds flour too.
In the grand scheme of things, there really is no major difference between the two. They are simply one of many different but delicious classic Dutch side dishes. But this does bring up the beginning of some interesting facts related to the history of scrapple.
Scrapple Brands
If you are interested in trying some popular scrapple brands today, here is a list of a few places you may want to check out or order some scrapple from.
The
Origins of Scrapple
Like many of the various dishes and desserts we've touched upon on our blogs, scrapple is a well-known PA Dutch/Amish food with Germanic roots.
Many immigrants left Germany and settled in what is now Central PA, which would later be home to many Amish/Dutch communities.
One of the most well-known skills the Germans possessed were their meat-making skills, and knowing how to raise and when to butcher their cows and pigs, even during the colder seasons. They were especially famous for their creations of sausage and bologna.
Their goals of avoiding livestock waste (that is, using as much of the animals as they could) became clever ways of utilizing all of their ingredients/products to avoid waste. This practice even allowed for new dishes to be created and even still enjoyed today, such as whoopie pies.

Scrapple Recipe
Looking to try your hand at cooking your own home scrapple? Well, we found a recipe that we think you'll enjoy and will give you another delicious option to add to your breakfast plan.
Ingredients
1 whole pork butt, cut into 3 to 4 pieces

1 whole hock, fresh

7 oz liver or blend of organs like liver, kidney, and heart cut into medium-sized chunks

½ an

onion

, peeled and cut

1 ½ stalks celery, roughly chopped

2 bay leaves

½ tablespoon peppercorns

3 cups of water

1 ½ cups white cornmeal

1 ½ cups yellow cornmeal

½ buckwheat flour

Clarified butter for pan frying

Applesauce or maple syrup
Seasoning Suggestions
¾ teaspoon fresh ground black pepper

¼ teaspoon fresh ground nutmeg

¼ teaspoon fresh ground cinnamon

¼ teaspoon fresh ground allspice

½ tablespoon cayenne pepper

2 tablespoons kosher salt

½ tablespoon chopped sage leaves
Directions
In a large stockpot, add pork butt, hocks, onion, celery, peppercorns, and bay leaves. Barely cover with water and simmer over medium heat until pork is tender and the meat falls off the bones, about 2 hours.

Drain and reserve the stock. Pour the solid contents onto a sheet pan so that you can easily discard the celery, onions, peppercorns, bay leaves, and all of the bones. Make sure to pull the meat completely off the bones, being careful to remove all the small pieces of bone.

Add the meat and cut-up organ pieces to a food blender and pulse to coarsely chop until they are fine. Don't overgrind.

Measure 1 gallon of stock and return it to the pot with the meat and your spices/seasoning mixture. Bring to a simmer over low heat.

Whisk your cornmeal and buckwheat flour with your salt and spices. Add the new mix to your stock, and allow it to simmer until smooth and thick for about 15 minutes. Add water or a little stock, if needed, to ensure a smooth texture.

Pour into a loaf pan and refrigerate (covered in plastic wrap) until it has set completely (preferably overnight).

Unmold, slice, and fry in clarified butter until golden brown. Serve with applesauce or maple syrup on the side.