For years, Amish families have been developing systems to preserve their harvests during the off-growing seasons. Before freezing was an option, the most common method used to preserve food during the Winter months was Amish canning.
It's a practice that has been passed down for generations and can be used to extend the shelf life of fruits, vegetables, and even meats. If you have a garden at your home or just want to try something new, give these Amish canning recipes a try!
Amish Canning
Basics
Canning is a safe way to preserve your foods during the Winter, but only if it is done properly. If the precise canning methods are not followed, food-borne illness can occur.
In general, there are three safe canning methods you can use at home to ensure the freshness of your canned items. The process you use will depend on the type of food being canned.
Boiling Water Bath Method
The boiling water method is used for high-acidic foods like fruits, tomatoes, pickles, jams, and jellies. It's the process of completely submerging the sealed jars with boiling water.
You can purchase a water bath canner, or you can invest in a canning rack to keep your jars elevated from the direct heat, and use a deep pot that you already have at home. Just make sure that the pot you're using is deep enough to completely submerge your jars, plus 2 extra inches to prevent boiling over.
Steam Canning Method
Steam canning is another method that can be used for naturally acidic foods like fruits and preserves, or acidified foods like pickled vegetables. It should NOT be used specifically for vegetables and meats, which have a low acidity level.
In this method, the canned jars are placed on a rack above the boiling water and are thermally treated by the steam. The benefits of steam canning compared to the boiling water bath method is that it uses less water, processes quicker, and requires less energy.
If you're looking to purchase one that doubles as a water bath and steam canner, consider this stainless steel canner and stockpot.
Pressure Canning Method
Pressure canning is the only method that can be used for low-acid foods. This includes all vegetables, meats, and seafood.
In this process, sealed jars are placed in 2-3 inches of water and heated to at least 240℉.
This temperature can only be reached in a pressure canner, so having one on hand is required if you're planning to preserve vegetables or meats. Here are some well-reviewed pressure canners to review if you're planning to invest in one.
In general, canned goods that are processed using one of these three methods have a shelf life of up to a year, given they are sealed correctly. If the jars are not sealed or processed, they should be refrigerated and consumed within 1-3 months (the time will vary depending on the type of canned product).
Amish Canning Recipes
Now that you understand the basic methods of processing required when canning your goods, you can try it out on your own! These are a few of our favorite Amish canning recipes that you can make at home to keep your pantry stocked for the Winter.
Pickling is a common canning method used to preserve the shelf life of your vegetables. Pickling fruits or vegetables on your own is actually much easier than you might think. It requires water, vinegar, salt, sugar – and a little patience!
Amish red beet eggs, a classic PA. Dutch side dish. are hard-boiled eggs that are pickled in red beet juice (among other ingredients). They have a sweet, tangy flavor. You'll know they're ready when the color of the hard-boiled eggs turns from white to a dark red/purple color.
Typically, it takes about a week for the eggs to marinate. Some recipes even suggest allowing the eggs to pickle for at least 2 weeks to reach their peak flavor.
To make Amish pickled red beet eggs, you will need:
Hard-boiled eggs

Canned beets

Cider vinegar

Sugar

Water
Preparation Tips
This recipe does not require processing, but does require immediate refrigeration to keep the eggs from spoiling.
Shelf Life
Your pickled eggs should be consumed within 3-4 months after canning.
Sometimes called "end of the season relish," chow chow is an Amish jarred good composed of a smorgasbord of vegetables. It's a common way that the Pennsylvania Dutch salvage the remaining vegetables of their harvest.
Like Amish pickled beets, chow chow has a sweet and tangy taste. It can be served as a topping on hot dogs or burgers or served as a side dish with heartier meats like steak or pork.
The most common vegetables found in Amish chow chow are:
Green beans

Red and green peppers

Lima beans

Beans: kidney, wax, and/or butter

Carrots

Cauliflower

Celery

Sweet gherkins
For your pickling mixture, you will need the following:
Apple cider vinegar

Water

Sugar

Salt

Celery seed

Mustard seed

Turmeric*
*Optional
Preparation Tips
If you're using frozen vegetables, they don't need to be cooked before canning.
Shelf Life
Once sealed, your chow chow has a shelf life of up to 1 year. It should be refrigerated and consumed within 2-3 months after opening.
Amish jellies and jams are among some of the most beloved PA Dutch delicacies. They are the perfect blend of sweet and tart, and they pair perfectly with crackers, toast, biscuits, and more.
Amish Christmas jam in particular is one that is popular during the holiday season. It's created using a blend of strawberries, cranberries, and orange zest. One of the best things about this recipe is that you can opt for fresh or frozen fruits!
To make this Amish jam at home, you'll need
Cranberries

Orange zest

Oranges

Strawberries

Ground cloves

Ground cinnamon

Ground nutmeg

Calcium water

Sugar

Powdered pectin
Preparation Tips
Wipe the rim of the jars down after transferring the jam or jelly to make sure you get a proper seal.
Shelf Life
After processing, your Amish jam has a shelf life of up to a year. Once opened, keep refrigerated and use within 3-4 weeks.
Because of their low acidic qualities, beef, meats, and seafood must be processed in a pressure canner. Pressure canning is the only safe way to store your meat in jars. Water baths will NOT allow for safe storage or consumption.
Learning to can your meat is a lengthy process. But the juicy, tender taste of the meat after being canned is well worth it. Plus, jarred beef will create a flavorful broth that you can use in future meals!
To make Amish jarred beef, you will need:
Preparation Tips
Salt is optional since it does not impact preservation. Feel free to skip this ingredient, or add some other seasonings to your jarred beef! The jars should be placed in a pressure canner on a rack to avoid bouncing around and breaking.
Shelf Life
When sealed properly, this Amish meat canning recipe has a shelf life of 12-18 months. After opening, the meat should be consumed in 3-4 days.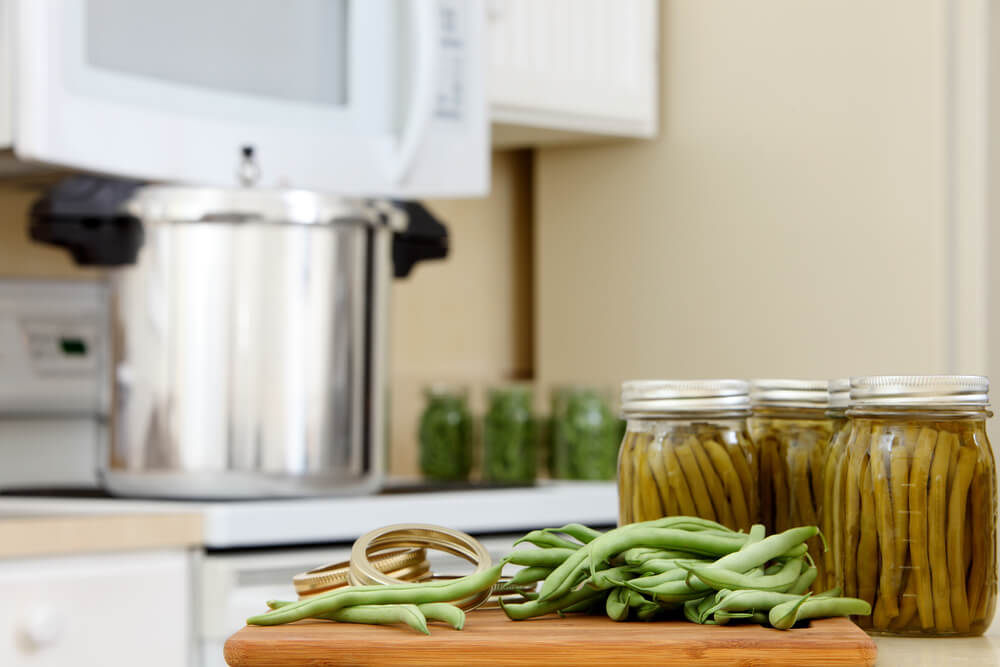 Pickled green beans, also known as "pickled dilly beans" are one of the easiest Amish canning recipes to try. They are pickled in an acidic brine composed of salt, vinegar, and water. For the best taste, allow the green beans to marinate for 2-3 weeks before tasting.
To get the crunchiest dilly beans, use fresh string beans from your garden or from the farmer's market. Small to medium-sized string beans work best; larger beans with seedy pods will be hard to bite into after they are pickled.
Here's what you'll need:
String beans

White vinegar or apple cider vinegar

Water

Salt

Dried dill seeds or a head of dill

Garlic clove

Red pepper flakes
Shelf Life
The shelf life is up to 1 year if the jars are sealed properly. Once opened, they should be consumed within 2 months.
Where To Buy Amish Canned Goods?
If you're interested in trying some of these Amish canning recipes but don't feel like making them on your own, they can be purchased at your local Amish Farmers' market.
If you can't find the canned goods you're looking for at the farmers' market, they can also be purchased online. Jake & Amos® is a popular Amish brand that sells strictly canned products on its website.